New Release: Tyviso Mail
After extended testing, Tyviso Mail is now available for all existing and new Tyviso customers!
The new e-mail widget has been designed to reward and delight customers in the most personal space a brand can interact with a customer – their inbox.
E-mail for almost all brands is one of their most profitable channels. According to a recent survey by Litmus, of 378 marketers interviewed, the average return is 38:1.
Making sure that new customers have a positive first e-mail interaction is critical. Achieving this will make them far much more likely to engage with the rest of your sequence.
Confirmation e-mails are the most interacted with in any e-mail sequence, hitting an astonishing average open rate of 65-70%.
What is Tyviso Mail?
Tyviso mail is a widget served in an order confirmation e-mail sent straight after a customer has made a purchase.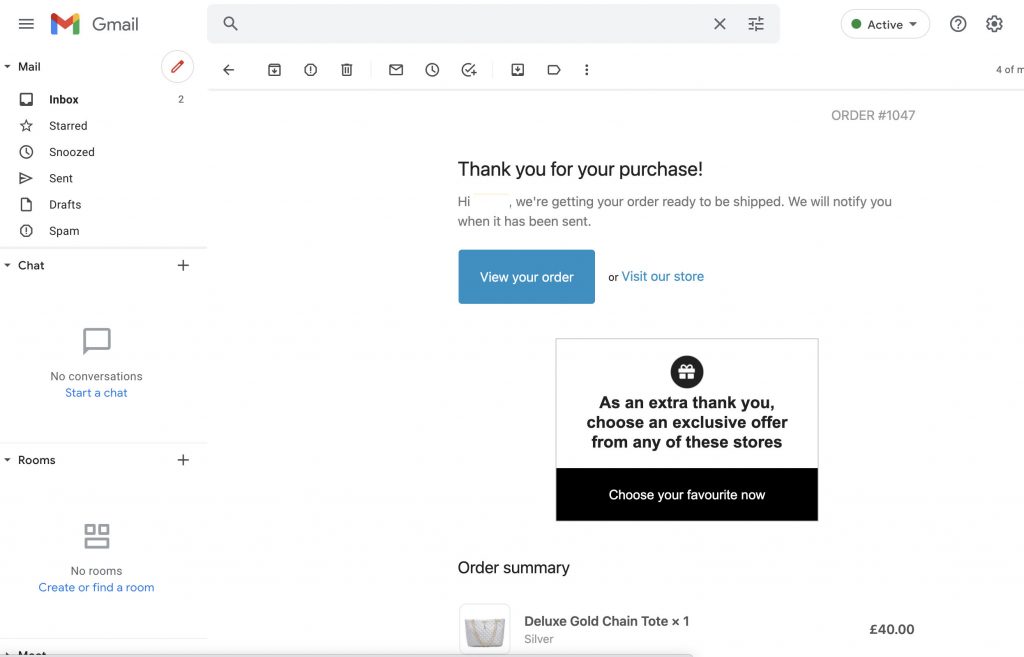 Served above the fold, this placement behaves as a thank-you reward for buying a product. Specifically, the widget gives the user exclusive offers and discounts at other stores in the Tyviso community.
Tyviso Mail is fully customisable in both text and appearance, meaning it can be seamlessly integrated within all mail services.
What are the benefits of Tyviso Mail?
The implementation of a gift within your confirmation e-mail will deliver significant benefits.
Primarily it ensures that you are delivering incremental value to your customers that illustrate you care about them. This will lead to a significant positive domino effect.
Additional positive sentiment will lead to happier customers and more repeat custom. According to Hubspot, a 5% increase in customer retention can lead to a 25% to 100% increase in profitability. Tyviso Mail significantly aids this without using internal discounts as a method of retention.
As with all of our products, every partner will continue to benefit from high-quality referrals from other Tyviso community members.
Next Steps
Existing customer? Reach out to your sales or account management representative.
New customer? Contact us to start your journey of acquiring new high-value customers.