Black Friday & Cyber Monday 2021: What trends did we see in fashion?
Fashion is one of the biggest uptakers of Black Friday. And it makes sense, it's a competitive industry filled with impulse purchases.
As an added bonus, Black Friday fell just four shopping weekends before Christmas this year. Being so close together, the main shopping period of Q4 is condensed and increases the likelihood of people taking part in the sales.
However, we've seen smaller offers over a longer time frame emerge as a common trend over the last few years. And many eagle-eyed deal hunters are finding Black Friday deals aren't what they always seem. In fact, Which found 99.5% of Black Friday deals offer products at a more expensive rate or the same price at other times of the year. That figure is a shock – but it was only based on an audit of 200 products from major brands, so hopefully, there are still some good guys out there.
But on to the good stuff of 2021: what were the Black Friday trends from fashion brands in 2021?
Trend 1: Minimum orders
A few brands introduced minimum orders this year to their Black Friday offers. For example, French Connection required £75 basket spend to qualify for the 25% off. It's hardly the 'mega deal' we expect on this infamous weekend, but by doing so, brands protect their profit margins. Offering a smaller discount on a large amount could be seen as a more significant discount than brands providing 25% off when a standard order is just £10.
Trend 2: Loyal member-only discounts
Multiple brands, including Levis and underwear brand Pantee, promoted their Black Friday offers to a core customer group rather than the mass market. By doing so, brands show loyalty to existing customers and fans. On the flip side, these 'warmer' customers are more likely to make larger and more frequent purchases. So again, the fashion houses can better protect their profit margins by targeting individuals with higher purchase intent in the moment and after the sale.
Trend 3: Simple discount-only campaigns
Oh, we'll get in trouble for this one. But honestly, a lot of the offers this year were a bit..simple. And by simple, I might mean a bit lazy. Many of our fast-fashion staples posted large or middle of the road discounts, and that was it. No clever puns, not storytelling, no value proposition beyond price. Just straight-up discounts.
Trend 4: Anti Black Friday
Anti Black Friday campaigns are popping up everywhere, from price increases to #GivingTuesday. Yet again, eco-conscious brands like Patagonia asked customers to shop consciously. Some fashion brands, including Asket, went as far as closing their shops. And EYO increased their prices by 300%; a great way to stand by their morals while benefiting from a clever PR stunt.
Trend 5: No Black Friday
There was a notable lack of Black Friday offers from some leading fashion brands. The Black Friday image is starting to get a rep so bad that brands won't even participate. According to the independent, 85% of independent retailers weren't planning to participate in this year's Black Friday weekend.
From big to small, a round-up of the Black Friday offers from the UK's biggest fashion brands
The big offers from UK fashion brands
Unsurprisingly, fast-fashion connoisseurs ASOS, Missguided and Boohoo went big with 80% off. Their offers were simple, straightforward, and claimed to extend to their entire range. Not all brands can offer these huge discounts, however, and it's important to take the time to calculate what sale value makes sense for your business.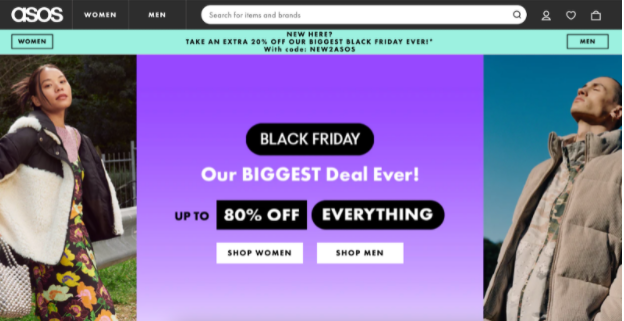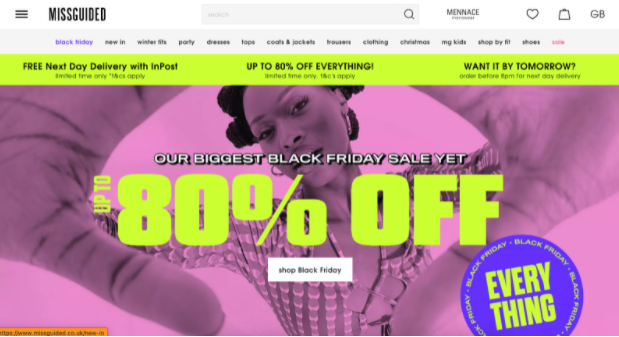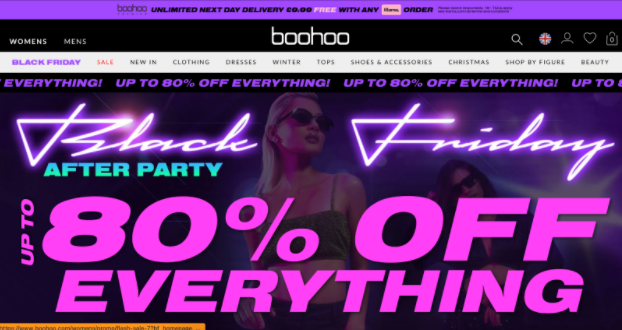 Middle of the road offers from online clothing stores
Treading the middle ground, we saw New Look hit a nice 50% off an extensive range of clothes.
Higher-end brand Boden went for 40% off and All Saints 30% off. Still a respectable discount considering their higher price points and potential average order value.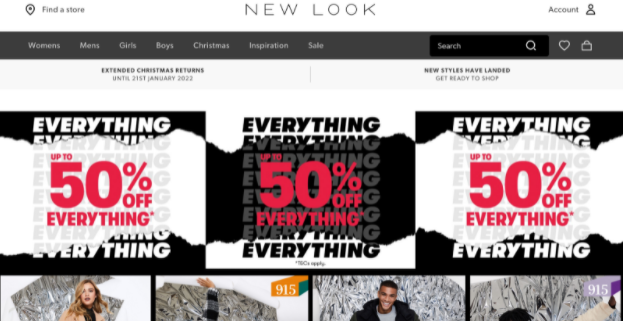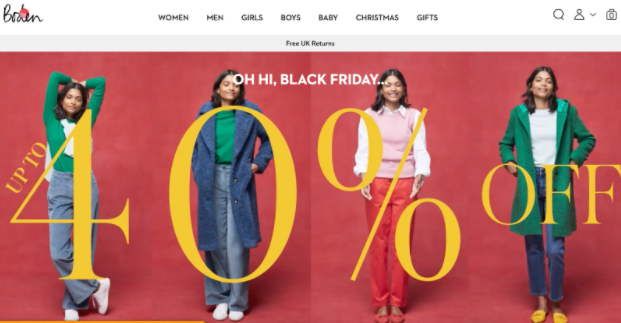 I'd also like to extend a special mention to Levis, who came up with the clever "Indigo Friday". This offer hints at the iconic indigo colour of denim jeans, adding a bit of Levi branding to their sale. The offer provided a respectable 30% off to everyone. But this campaign comes into its own by offering 50% off to 'members' – aka people who share their email address. Individuals they can remarket to and encourage repeat purchases over time. Smart.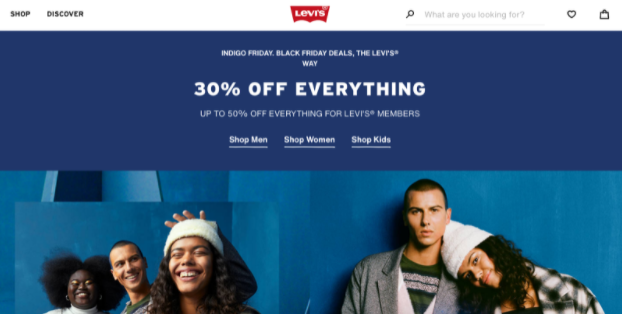 Small Black Friday offers from fashion brands
A host of brands went for less than 25% off, including River Island and Whistles. Which begs the question, if you aren't going to stand out, why do it at all? It seems FOMO got the best of many of these smaller brands, seeing them offer just enough to keep prospective shoppers happy but not draw in the masses.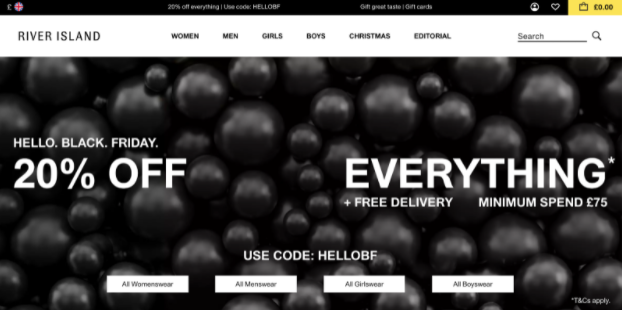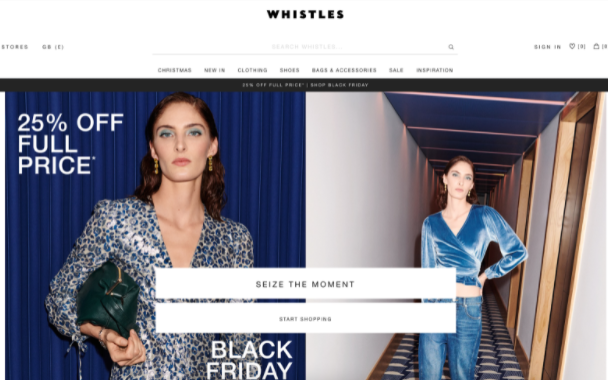 As consumers show an increasing dislike for Black Friday, it might be a good idea to rethink your discount strategy. Offering value-for-money prices year-round can help customers feel appreciated by your brand. And timely offers can grow sales consistently, rather than relying on fewer pay-days throughout the year.
 
Tyviso presents offers to shoppers year-round, just after they've completed a purchase. Interested? Learn more here.