10 Black Friday Ideas That Will Make Your Brand Money
E-commerce brands feel pressure to keep up with Amazon and other retail giants' significant Black Friday discounts every year.
However, this can take a toll on your business's profitability, especially if you're a smaller brand working hard to grow.
So what can you do?
Many consumers are conditioned to seeing 'traditional' discounts, so mixing it up with a more unique offer will set your brand apart, especially when a consumer's inbox is wholly flooded with 20% off deals.
With that in mind, here are 10 alternative Black Friday campaigns that don't require deep discounts.
Campaign ideas & inspiration
1. Special bundles
Most businesses run deep discounts on individual items. But an excellent way to increase your average order value during this sales season is to offer discounts on bundled items that go well together.
Especially for CPG brands like skincare, you can put together a full routine for customers to purchase at a discounted cost.
This way, you're selling more products with every purchase, increasing your AOV, and staying profitable.
Knowing customers use Black Friday to purchase holiday gifts, Equa offered a buy-two-get-one-free gift bundle for its campaign.
2. Exclusive deals for loyal customers
What's a great way to drive sales AND encourage loyalty program sign-ups? Making your Black Friday deals exclusive to loyalty members.
Offering an exclusive deal caters for your most profitable customers, showing them that you're just as invested in them as they are with you.
Make tiered offers based on a customer's loyalty program status like Pixi did, for example, which gave VIP members 20% off for the holidays.
This encourages members on lower tiers to purchase products before the holidays so they can get bumped up to your VIP tier to get the best discount for Black Friday.
3. Bonus loyalty points
Similar to offering an exclusive promotion to your loyalty members, you can also offer bonus loyalty points. Again, this encourages new customers to sign up for your loyalty program.
By giving out bonus loyalty points, customers will have an excellent reason to return to your store after Black Friday since they'll likely have points to use for their next purchase.
Here's how Enso Rings did their bonus points campaign via email:
4. Subscription discounts
Many brands see a similar problem during Black Friday: They get many first-time customers who purchase products and never return again.
And most of the time, this is because those businesses don't have a retention strategy.
One way you can increase your retention rate is to offer a discount on a subscription.
Now, this only works for brands with a subscription program that offers more than just products at a discounted price (you don't want to lose your profitability by discounting too much).
Here's what you can offer in a subscription program to make it valuable:
Free shipping.
First access to new products.
Invites to exclusive events.
Free merch.
Birthday discounts.
Early sales access.
5. Freebie items
Got some leftover stock on socks, scrunchies, jewellery, or any other accessories? What about lip balms or false eyelashes?
Great. Use your leftover stock for your Black Friday promotions instead of offering a discount.
If you want to drive up your AOV, you can make the promotion available only to customers who spend a minimum number of dollars.
This will encourage them to add more items to their cart to get the free item.
A free item campaign can help you get rid of that leftover stock that wasn't selling anyway. Here's how LIVELY gave away branded socks for their Black Friday campaign:
More examples!
6. Donations to a charity
You can opt-out of giving away discounts, free items, or anything directly to your customers to instead focus on charity.
Especially if your brand mission is aligned toward a particular charity, doing a Black Friday charity campaign can show your customers that you're true to your mission, and those who believe in it will support you.
Even if you already make regular donations to a charity as part of your mission, you can still do something with charity for Black Friday.
For example, The Scrunchie Club uses Black Friday to increase its donations to the charities it already supports.
According to Alyssa Kaplan, the founder, this campaign is successful with her customer base:
"With each design benefitting a different nonprofit, our community is often really passionate about the causes their purchases benefit. And during the holiday shopping season, a lot of repeat customers are interested in purchasing their favourite scrunchies for loved ones, sharing the story behind the product with them."
Here's how they announced it in an email, calling it "Double Donation Day":
7. Free shipping and extended free returns
REMEMBER: Shipping costs are the number one reason customers abandon their carts.
Offer free shipping and extended free returns to give customers the confidence to make a purchase.
When consumers know they can return the item if they choose the wrong size, colour, style—and be able to do it without a cost—they'll be much more likely to follow through with a purchase.
8. Launch a new and exciting limited-edition product
Think about it in terms of Disney, for example: whenever they release a new limited edition item, like a doll, all the fans make sure to get their hands on one ASAP.
The same can be said for brands with loyal fanbases.
When you release a limited edition item, your most loyal customers will want to purchase it first.
Black Friday is the perfect time to release limited edition items, and it can even become a tradition that your customers expect. So every year, you'll build up more hype around what product you'll be releasing.
9. Discounts on minimum-priced purchases
One idea to increase your Black Friday profitability and your AOV is to offer discounts only when customers' carts add up to a minimum dollar amount.
You can increase the discount the more they increase their spending.
And for customers who are doing their holiday shopping during Black Friday, this is an excellent way for them to get some serious cost savings for the upcoming holiday season.
Here's an example from The North Face: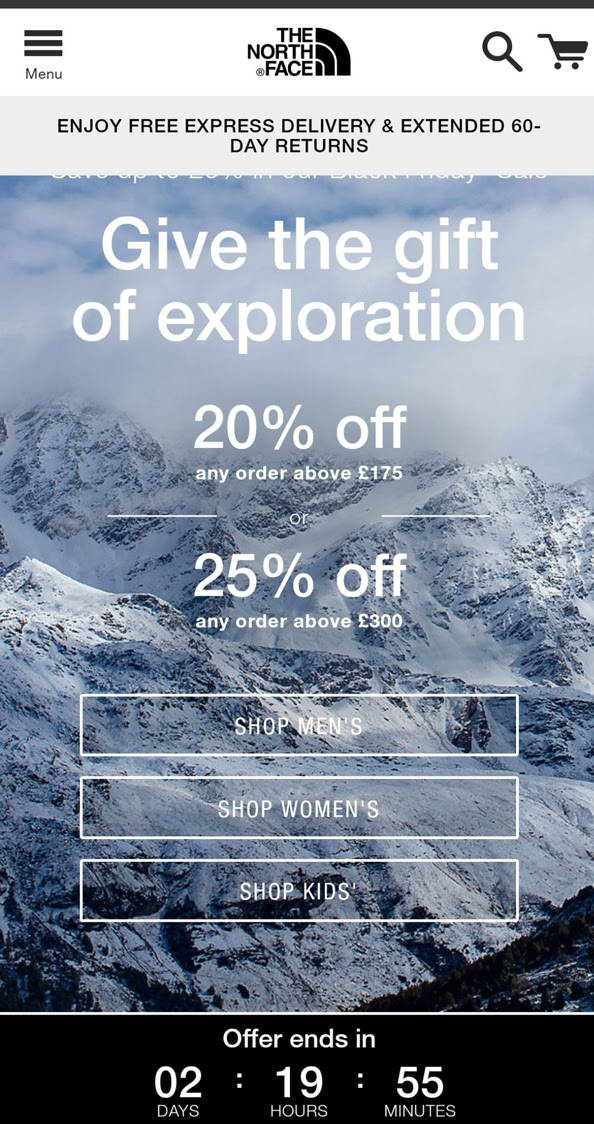 10. Give out a gift card over a discount
Gift cards given away for free are usually redeemed by someone else and not the original purchaser.
AKA, giving out gift cards as your promotion works as a way to acquire two customers with one purchase.
Similar to the approach of offering a discount on a minimum order, you can instead provide gift cards at $10, $15, or $20. This gives customers a reason to come back and purchase from you again.
Ok, take a breath now. That was a LOT.
You got this! You'll crush BFCM, but start prepping NOW.
Be sure to have your Cart Abandonment setup for success too, there's going to be a lot of it whilst users are temporarily driven by value.