How To CRUSH Your Cart Abandon Issue
Abandon Cart emails. You know they're essential for your business (right? right).
The average shopping abandon rate is a whopping 88%, and Abandon Cart email flows can earn back 3-14% of those lost sales (which can add up ).
The possibilities are endless, and yet many Abandon Cart emails have some version of the same message:
"Hey stranger, you left something in your cart. Come back and buy it. Please?"
While that might work for someone that just got distracted by a cute puppy, it simply won't convert a majority of shoppers.
Why?
Because most people don't just "forget" to finish their order… They have objections!
Some of the most cited reasons for not completing a checkout include:
Unexpected costs (shipping, taxes, fees).
Unanswered questions (return policy, shipping policy, subscription terms).
Friction in the checkout process (having to create an account or enter extra info, payment security, poor UX, slow load times).
Instead, put yourself in your customer's shoes: Why did they abandon their cart?
And how can your email overcome that reason?
Here's some inspiration for creating Abandon Cart emails that win back more customers.
Vans: Do These Come in 'Yacht Club'?
If you sell multiple versions or styles of your products, consider including them as another option in your Abandon Cart email.
While the shopper might have gotten "cold feet" with the first pair of shoes, they may not be able to resist those killer Yacht Club Vans.
Ahoy, matey.
 Ugmonk: Get Your Q's A's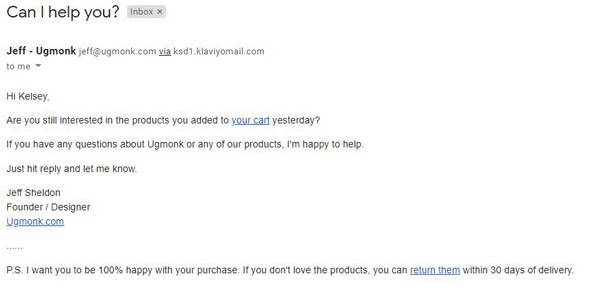 Ugmonk's email is allowing their shopper to get their concerns resolved directly.
They also address a common objection (return policy) in the PS by letting the customer know they can always return the product within 30 days if they don't love it.
Plus, with a simple text-based design, this feels more like an email from a friend than a brand, which builds that know-like trust factor. 
Whisky Loot: Answer Questions/Concerns Upfront
Now here's the thing: Most people won't take the time to email you with questions. They're too busy petting cute puppies! 
Make it easier for your customer by answering common questions directly in your Abandon Cart emails.
This email from Whisky Loot does a brilliant job of reminding you what you get with a subscription and answering common questions upfront… Leaving you with no choice but to soak in that whisky bath.
Check out more examples!
Tesco Mobile: Survey Your Customers
Tesco Mobile asks their customer directly: "Hey, why didn't you buy from us?"
Not only does a survey provide another touchpoint with the customer, but the results can also give Tesco valuable data that they can implement to improve their offering and checkout process in the future. Win-win!
(Tip: Consider including an option for customers to select "other" or give another reason not listed.)
SkinnyDip: Give a Discount
Offering a discount can effectively win back customers that didn't convert because of cost.
If you want to try this, we'd suggest sending the discount later in the flow, after you've employed other strategies. (Free shipping can work, too, if you're not into discounting).
Other Tips for Winning Abandon Cart Emails:
Let your brand voice shine with your copy
Have a clear picture of the abandoned product
Link back to the customer's cart, not the product page
Incorporate urgency (purposefully… don't be dishonest)
Use lower friction CTAs like "View my cart," "Complete my order," or "Take it home"
Include links to FAQs, Customer Service, or other ways to reach out with questions
Like ALL these ideas? Consider incorporating them as separate emails in your Abandon Cart flow!
See our guide on building the perfect product page here to reduce the chance of users abandoning their cart in the first place.