How To Copy Amazon's Best Secret – Upselling.
Take a moment to reflect on the fact that Amazon makes 30% of its money from products that its algorithm upsells. 
Better still, Amazon makes this money without enticing any more users to its store. It's just getting more money from those they already have.
Simply defined, Upselling is a sales technique where a seller invites the customer to purchase more expensive items, upgrades, or other add-ons to generate more revenue.  While it usually involves marketing more profitable services or products, it can simply expose the customer to other options that were perhaps not considered. 
A different technique is cross-selling, in which a seller tries to sell something else in addition to an item they've already chosen. 
In practice, many businesses usually combine upselling and cross-selling to maximise revenue, and if you aren't already, you should consider doing so too.
The key to getting these methodologies right relies on the accuracy of the recommendations. Just offering an additional product for the sake of it isn't going to have half the effect of something complementary to what's already in the basket.
What is Frequently Bought Together?
Frequently Bought Together is a Shopify ready app that allows you to create 'Amazon-like bundles that work', to quote the developer directly. Built in 2016, it uses data to make personalised recommendations, Upsell Bundles & Discounts.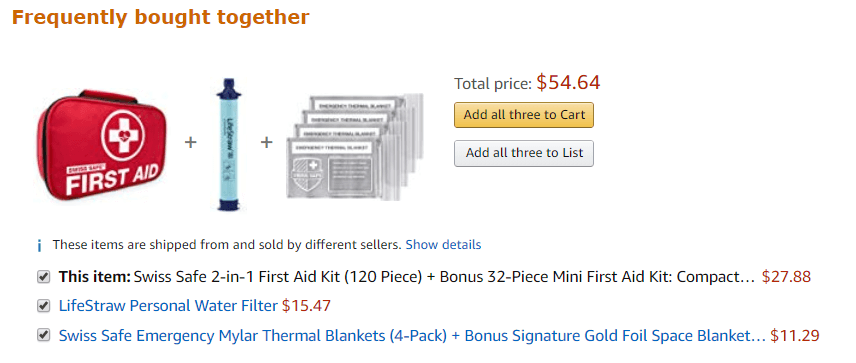 The Frequently Bought Together allows you to serve relevant recommendations in the most convenient way: you can have it ready in your store in seconds with zero configuration.
Frequently Bought Together Features
This conversion optimisation app is loaded with features.
Here are the major features of Frequently Bought Together:
One-Click Set-Up
The app is easy to set up. All you need to do is select it from the Shopify app marketplace and then install it. Once done, it should be ready for your use.
Compatibility and Customization
The app is compatible with all Shopify themes. It is also responsive to mobile and will change in appearance if the customer uses a tablet or smartphone.
Fully Customisable User Interface
You can change all colours, sizes, etc. and select the widget's position in the product pages. This allows you to really make this upsell tactic stand out or blend in depending on your design preferences and shop style.
Multiple Recommendation Algorithms
The FBT algorithm is ingenious. By default, it offers Automatic recommendations: the apps AI analyses the previous purchases in your store database through data mining algorithms and produces a memory graph with the recommended products that are usually added together to the shopping cart. 
Beyond this, you can also create manual bundles or develop category based recommendations when your store is still in its infancy and doesn't have enough data yet.
Bundle Discount Upselling
An automatic discount can also be applied to the bundles, either globally or individually, effectively using the app as a discount upselling widget. The types of discounts available are Percentage discount, Fixed Amount, Cheapest Item for Free and Free Shipping. Be sure to check your margins if you are letting the automatic recommendation widget do its thing.
Integrates with Review Apps
This is a convenient feature for creating social proof and verification that people are buying bundles, further increasing your chance of selling one.
In-Depth Reporting
Who doesn't love proof that the app you've installed is working? As well as giving you a summary of whats happened in the last 30 days (number of reviews served, products sold etc.), you can also see a breakdown of upsold vs cross-sold products. This means you can hone in and truly push manual matches harder if you spot a theme.
Frequently Bought Together Pricing
Hold on to your seatbelts folks, FBT is a free app (well, kind of). If your store is less than 3 months old, the kind folks at CodeBlackBelt are at the time of writing, allowing you to have the app for life for free.
$10 a month is a minimal cost for a particularly lucrative tool if you're older.
They even have a human support team – who'd have thought it.
Frequently Bought Together Benefits
Why do you need an app like this?
​​
Here are the benefits that you can get from your subscription:
Upselling – Sell people more expensive versions of the same product you are selling. E.g. personalisation
Cross-selling – Highlight other relevant products to customers which they may not have considered
Increased conversion rates – as items are displayed as bundles, customers are more likely to buy them
Higher AOVs – selling more stuff equals more stock out the door and more money in your pocket.
Frequently Bought Together: Is it worth it?
As mentioned at the beginning of this article, it's tough to ignore how companies such as Amazon really make hay by using a feature such as this.
For such a low price point, FBT really is a very low-risk addition. When you further consider the level of customisation available, both in appearance and product matching terms, there are many levers that you can pull to make it successful.
It's straightforward to get going with a one-click setup, and the data and insights available ensure that you can keep a close eye on things. You may even learn something about your audience that you previously didn't know.
Depending on how extensive your product range probably defines how you want to use this app. If you have a small range, then probably doing things manually is the way for you. If you have a more extensive catalogue, working alongside their AI is perhaps the way in the short run before you have enough sales volume for it to take over autonomously. 
Combined with the reviews and a star integration, this tool could be one of the best additions you make and at the cheapest cost. Thanks for the tip, Amazon!
Want to combine this trick with something else awesome? Read our guide on how to improve your product page here.