SMS – Old Or Gold At Generating Sales?
You're probably thinking – who sends a text these days, right? Believe it or not, in the US, in 2019, over 2.1 trillion SMS messages were sent. This is down from 2.3 trillion in 2011 but does not represent a substantial downturn.
SMS still holds substantial value for eCommerce businesses – SMS marketing can be used for various purposes, including promotions, important announcements, order details, and even collecting feedback.
Below are a few ways you can use SMS to your benefit.
Tip #1: Send Abandoned Cart Reminders
Some shoppers need that extra nudge to finalize their order. While email is the typical channel for this, SMS provides an even better opportunity.
Make it super easy by adding their cart link with the message to help them finish.
Check out this example from Supergoop. They should throw in a discount to make it more enticing to complete the purchase!
Tip #2: Coupon Codes for Special Occasions
Treat your customers like royalty on their special days, such as birthdays or anniversaries.
Not only does it make them feel special, but it also allows you to delight a customer with online store creditor discounts.
Also, take advantage of SMS around BFCM… which is coming up SOON!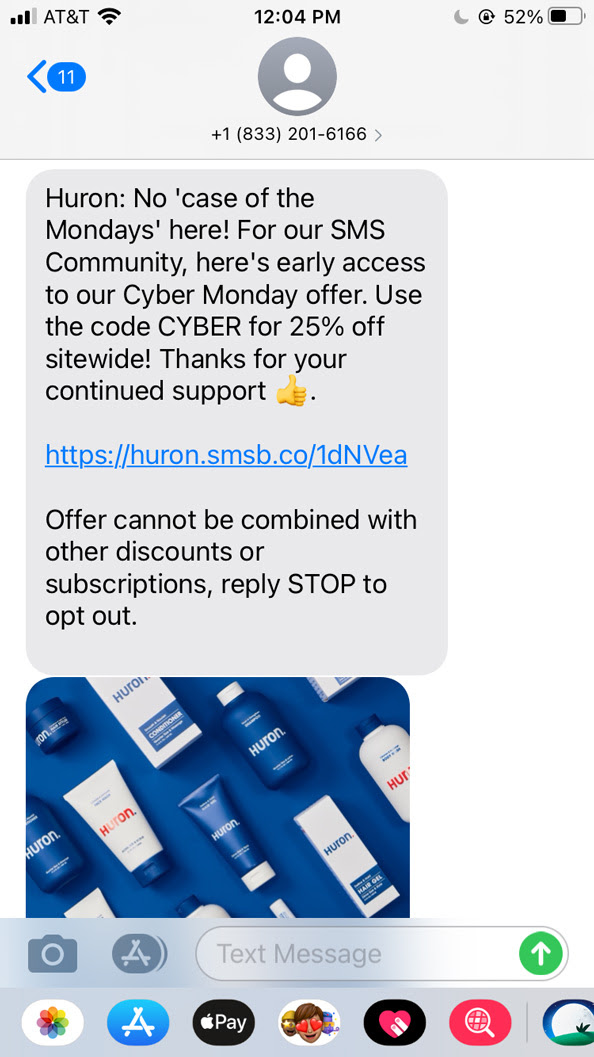 Tip #3: Customer service GOLD:
Text is a great platform to answer complicated customer questions that require a human response.
Treat your SMS list as VIPs. Let them know they'll be receiving exclusive promotions AND that you're there to answer any questions.
WellWell crushes this!
Tip #4: Announce New Product & Restock
SMS is an excellent medium for announcing time-sensitive information such as new product arrivals or restocks.
To improve conversions, create segments of customers based on past purchases and send them hyper-targeted messages.
Check out these examples from Not Pot and Blume.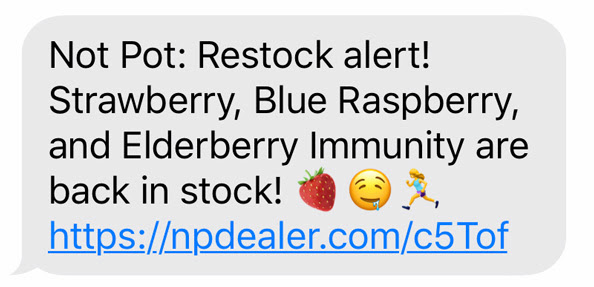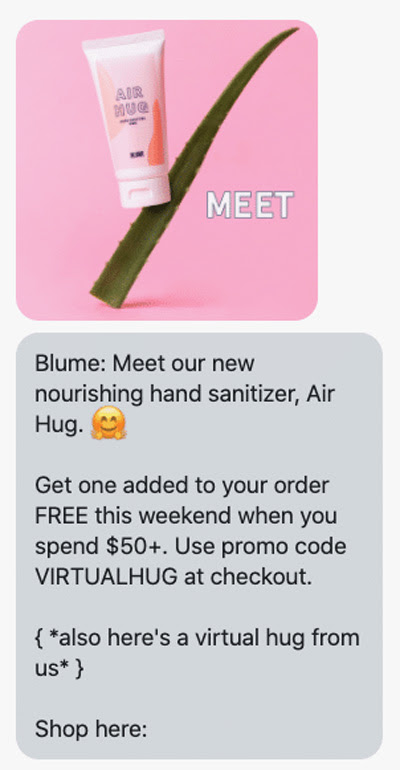 Tip #5: Send Reorder Reminders
Depending on your product lifecycle, set up well-timed reminder messages to prompt another purchase.
SMS is sensitive, so don't go overboard with multiple reminders.
Tip #6: Promote Ongoing Sales
On average, text messages are opened within 2 minutes of delivery. So messages can be used to drive urgency during ongoing flash sales or special offers.
Again, these can be hyper-targeted based on customer segments and purchase history.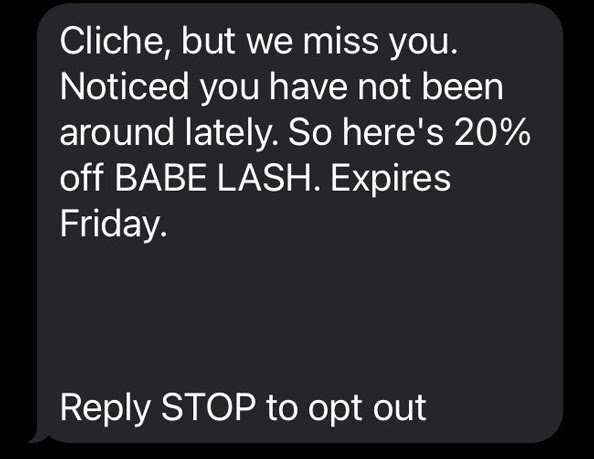 Tip #7: Get Referrals via SMS
Create a segment of your loyal customers and turn them into brand advocates.
Referral discounts are great ways to incentivize your advocates and gain new customers at the same time.
Consumers trust recommendations from friends and family, which increases the chance of purchase.
PLUS, it's super easy for them to invite friends and family via text, especially when you've got a kick-ass offer.
TIP: When building your list, let your existing channels do the work. Add a spot on your pop-up.
Check out this KILLER pop-up from Omsom.
The Only thing we'd suggest is testing a two-step process. The first step is for email, and the second is for phone numbers.
TEST both routes and let us know what worked best for your brand.
SMS still not entirely convincing you? Check out our guide on how to supercharge your ads to get more customers.