How To Grow Your Email List Before Black Friday
Black Friday is coming and soon. You may have your campaigns ready to go, but what about your customers?
The sad fact is the average eight-week retention rate for most industries is below 20%. So if you haven't seen growth to your email list in the months before Black Friday, you're likely preaching to a disengaged audience.
A robust email list is crucial to BFCM success. Let's dive into how we can grow yours right now.
Engage customers with quizzes
Quizzes are a fun and engaging way to connect with your customers and recommend relevant products.
You can then use this data to personalize your campaigns to each customer segment during Black Friday.
In 5–10 questions, ask customers about their preferences, sizing, and shopping needs. Before giving them their results, add an email or SMS opt-in with a special offer.
Gift finders, fit finders, style finders, or general product recommenders are all great quiz ideas.
Check out the beginning of Mavi's gift finder quiz:
Welcome and exit pop-ups
Use a welcome pop-up with a special offer to collect a customer's contact information right when they visit the site.
Complement your welcome pop-up with an exit-intent pop-up in case they don't convert right away.
Also, ask customers about their shopping preferences. Keep the pop-up short; 1–2 questions max. Anything longer will be too distracting, and customers won't convert.
Beau Berman, the co-founder of Layer Origin Nutrition, notes:
"A/B test everything—including the image. We did this earlier in 2021 and noticed a 27% difference between sign-ups when we simply switched to a brighter image."
Check out Ella + Mila's three-step pop-up, which asks customers what they're shopping for, their email, and recommends products all within the pop-up.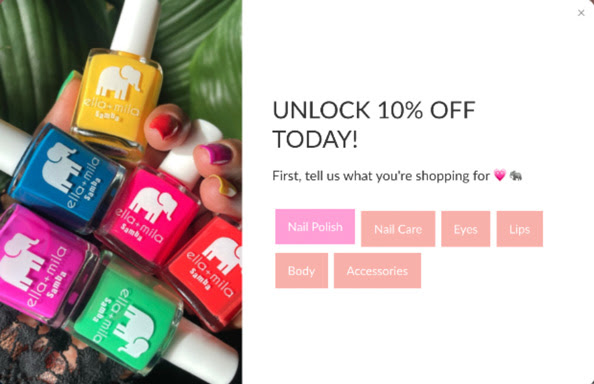 Host an event
Co-founder of Travel Cat, Emily Miethner, has seen significant success with hosting an event before Black Friday to connect with your customers and grow your email list:
"We started hosting virtual educational cat community events, which has helped create a really engaged segment of our email list."
Like Emily's approach, brands can host in-person or virtual events related to the products they sell or their mission.
For example, if you support a specific type of charity, host an educational event about what that charity supports and why.
Tip: Make it easy for customers to sign up for these events. "For our virtual events, we started out using Eventbrite but switched over to a Klaviyo sign-up unit. It works much better on mobile and has fewer steps for the user," notes Emily.
Travel Cat's event forms will also ask additional questions to collect email data points. That way, they can follow up with more educational content based on the user.
Offer an exclusive early Black Friday deal.
To announce your Black Friday promotions ahead of time, build hype and create an exclusive Black Friday deal for customers who sign up for your email during a specific time.
For example, you can offer early access to your Black Friday promotion or an additional discount just for these early subscribers.
Announce this exclusive promotion on your social channels and drive users to a landing page where they share their contact information to get it.
Ask a few additional questions to learn about their preferences to help you personalize your campaigns to them.
Run a contest or giveaway
According to Outgrow, contests and giveaways see engagement rates of up to 5.8%, plus conversion rates of up to 34%.
If you partner with another brand to cross-promote both audiences, you'll be able to connect with an entirely new group of customers, too.
Travel Cat's "Forever Home Heroes" campaign supports cat rescue work.
; Anyone around the world can participate by nominating and voting for a person or organization doing cat rescue, trap-neuter-release work, or foster care.
Customers have to share their email to vote or nominate, which drives thousands of new emails every year before Black Friday.
"We're always looking to try creative campaigns besides the introductory discount for sign up. Plus, strategically timing those campaigns to happen before sales or popular buying times has helped our success," said Emily.
Create a bonus loyalty points campaign
Rather than using a discount promotion to encourage email sign-ups (on top of your Black Friday promotions that will be starting soon anyway), run a bonus loyalty points campaign.
Not only does this encourage more loyalty program sign-ups, but it's an excellent way to grow your email list since users will be subscribing to your email promotions when they join your loyalty program.
This can also help with word-of-mouth referrals to acquire more customers if customers get extra points by referring friends and family.